About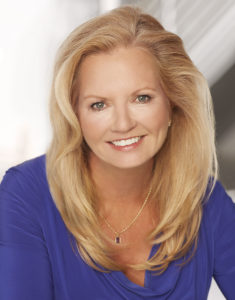 "My mission is to utilize my education, life experience, natural talents and abilities in an environment of integrity and professionalism."
-Lorri Franckle, R. EEG T., PA

Education:  Physician Assistant Program
(May 1984 to August 1986)
Bachelor of Medical Science: Physician Assistant
University of South Florida, Pre-professional Studies
(June 1983 to May 1984)
Associate of Arts Degree
Duke University Medical Center, School of Allied Health Professions
(June 1978 to June 1979)
EEG, Evoked Potentials and Sleep Studies
Certified in Electrophysiological Technology
Additional Training
Nutritional and Protocol Seminars
Institute of Functional Medicine Lectures
American Academy of Anti-Aging Medicine Lectures
International and American Association of Clinical Nutritionist Lectures
Dr. Weatherby Functional Blood Chemistry Symposium
Dr. Pompa Seminar Series
Professional Memberships
American Academy of Physician Assistants
American Society of Electroneurodiagnostic Technology
North American Association of Laser Therapy
About Cold Laser Therapy (also called Low Level Laser Therapy or LLLT):Cold laser therapy, or low-level laser therapy (LLLT), is a painless, sterile, non-invasive, drug-free modality that is used for a variety of conditions, including nicotine withdrawal, food cravings, stress, chronic pain, skin damage, injuries, wounds and fractures.
When used for nicotine addiction, this form of therapy combines Chinese acupuncture methods with advanced laser technology. Using light as a therapy is not a new concept. Albert Einstein first proposed the theory for the creation of laser light in 1917, but the therapeutic technology was not developed until the 1960s.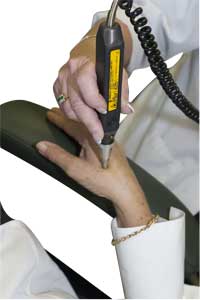 Today, laser therapy is quickly gaining popularity as an accepted medical therapy. This is because specific wavelengths of light are used to give accurately measured doses of energy directly to the appropriate body points, an advancement previously not possible with other light sources.
How does the Laser Work? Cold laser therapy supplies energy to the body in the form of non-thermal photons of light, which means it does not create high heat. Unlike surgical lasers, this process does not damage living tissue but rather gives positive stimulation on a cellular level.
Light is transmitted through the skin's layers, which optimizes the immune responses of the blood. The light is absorbed by special cellular components within the body to produce beneficial effects.
It is scientifically proven that light transmitted to the blood in this way has a positive effect throughout the entire body, supplying vital oxygen and energy to every cell. In much the same way that plants use light in the process of photosynthesis, humans also absorb the healthful effects of light.
What can I Expect During My Laser Session?

For most people, cold laser therapy is a passive event. We do not use any creams, gels or ointments applied to the skin, and no pulsating shocks are felt as with forms of electric stimulation.
The most notable sensation is the pressure of the probe head of the laser as it comes in contact with the skin. Very infrequently, patients have reported a slight tingling or tapping in a nerve or along a nerve pathway, and some patients have noted a slight sense of warmth. Most patients, however, report no sensation at all.