Stop Smoking
Click here to take our pre-treatment questionaire.
Please scan the page when complete, or take a picture of the form with your phone, and email to: LorriFranckle@gmail.com.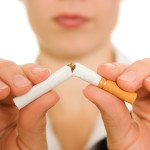 "You really need to stop smoking."
How many times have you heard this statement from family, friends, doctors and even that little voice inside your head? Easier said than done, right?
Smokers know better than anyone that using tobacco is a hard addiction to beat. You fear the dreaded nicotine withdrawal symptoms and, worse, that sinking feeling of failure when "quitting again" doesn't work.
The good news is that you may be able to permanently stop smoking utilizing cold laser therapy. LaserHealth uses laser to alleviate nicotine withdrawal and cravings, easing the urge to smoke. Working under the supervision of a medical director, our compassionate and professional Certified Laser Technicians will work with you to help break your addiction.
You May Be Able to Stop Smoking in as Little as 30 Minutes*.
Laser sessions are non-invasive, painless and drug-free and last from 30 minutes to an hour. Lasers are used on specific points of your body, including the hands, nose and ears. These meridian points release endorphins, the body's natural pain relievers and "feel good" chemicals. This may have a calming effect on the central nervous system, to lessen withdrawal symptoms and reduce or eliminate nicotine cravings.
In addition to laser therapy, you will learn important behavior modification techniques to help you remain smoke-free during your daily routine. We also recommend nutritional supplements to aid your body in getting the nicotine out of your system as quickly as possible. Booster sessions are available if needed for a nominal cost.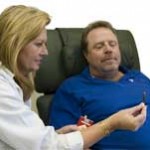 Call LaserHealth Today.
Cold laser therapy has helped thousands of people quit smoking once and for all. In fact, former smokers in Canada and Europe have experienced significant success rates with cold laser therapy for more than 20 years. If you've made the decision to stop smoking, call us today.
*We make no medical claim of cure.
---
I know the Laser worked for me to stop smoking.  I believe in lasers that is why I decided to try the Laser even though it was not FDA Cleared.  I had glaucoma and was treated with an experimental laser and it worked.
– Dodie H.
The first thing I  usually do when I get in my car is light up a cigarette.  After I was treated at Laser Health I got in my car and drove home and never thought about having another cigarette.
– Mary Lou N.
I dipped 1 can a day for 10 years. I was treated at Laser Health and have not had one craving after the initial treatment.  I did not require a booster.  I would recommend Laser Health to anyone who wants to stop dipping.
– Keith B.