Lorri Franckle, P.A. - LaserHealthUSA
Cold laser therapy (LLLT) is painless, sterile, non-invasive, and drug-free
Stop Smoking
"You really need to stop smoking." How many times have you heard this statement from family, friends, doctors and that little voice inside your head? Easier said than done. Smokers know better than anyone that using tobacco is a hard addiction to beat. You fear the dreaded nicotine withdrawal symptoms and worse, that sinking feeling of failure when "quitting again" doesn't work. The good news is that you may be able to permanently stop smoking through cold laser therapy. LaserHealth uses laser to alleviate nicotine withdrawal and cravings, easing the smoking urge. Please click on the Click Here link below to take our Pre-Treatament Questionnaire.
Lose Weight
The average American is considered overweight. Sadly, we know that there are no "miracle" cures for this epidemic. Fad diets and pills guarantee rapid weight loss, and they typically deliver on their promises, but as soon as you return to old eating habits, the pounds creep on again. If you're tired of yo-yo dieting and battling the scale, LaserHealth's comprehensive Weight Loss Program may help you permanently shake food addiction and improper nutrition through cold laser therapy. Achieving your ultimate healthy weight takes time and commitment. Our compassionate and professional Certified Laser Technicians will work with you to integrate healthy eating and exercise habits into your busy lifestyle.
Stress Management
We all have significant demands upon us in life. Work, family and finances are just a few of the bigger demands that, over an extended period of time, can increase our stress levels exponentially and begin to negatively affect the mind and body. How we manage both the pressures of everyday living and the anxieties associated with stressful events is truly the crux of creating a healthy lifestyle. If you feel chronically overwhelmed, anxious and exhausted, there may be hope. LaserHealth's comprehensive Stress Management Program may help you improve your quality of life with cold laser therapy, a painless, non-invasive and drug-free technology that is used to relieve stress and anxiety.
Have you tried to stop smoking only to reach for another cigarette a couple days later? Can't quit? Did you gain back the weight you worked so hard to lose? If you are like most people who battle tobacco and food addiction, the answer is probably a resounding "yes." Even the most well-intentioned and dedicated individuals can have a difficult time shaking unhealthy smoking and eating habits. If you want to stop smoking cigarettes or lose weight, LLLT Cold Laser therapy is a proven and safe scientific method.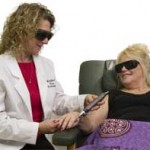 At LaserHealth, we understand the deep level of self-disappointment and frustration that comes with repeated attempts to stop smoking or to lose weight and keep it off. We offer hope and an opportunity to end your addiction with cold laser therapy, a painless, non-invasive and drug-free session that may help you say goodbye to nicotine and food cravings once and for all.
Cold laser therapy isn't just for smoking cessation and weight loss. This unique technology can also be effective in relieving pain and is often especially helpful when conventional therapies are ineffective, or when accelerated healing from injuries is needed. Cold laser therapy also may work to reduce the symptoms of stress and stimulate feelings of well-being. In addition, our photo facials may boost your appearance by removing fine lines and wrinkles, as well as address a variety of skin conditions.
We invite you to explore our site and learn more about how LaserHealth can help you discover the healthy person inside so you can quit smoking or lose weight with laser therapy.